Flasks for sale
I regularly import protocorm tubes and flasks from Ian Walters of Burleigh Park Orchid Nursery in Australia. I regularly have protocorms spare and these are listed below. Flasks are prepared on request and will take several weeks to months before they are steady enough in the flask to be shipped.
Orchids currently available:
Barkeria skinneri Dave x self, R80/flask of 8-10 seedlings
Cattleya nobilor, R80/flask of 10-15 seedlings
Oncidium hyphaematicum, R80/flask of 10-15 seedlings
Oncidium multiflorum, R80/flask of 10-15 seedlings
Oncidium sarcodes, R80/flask of 10-15 seedlings
Oncidium zappi, R80/flask of 10-15 seedlings
Tolumnia calochila, R50/flask of 10-15 seedlings
Phalaenopsis violacea var Sumatra, R100/flask of 10-15 seedlings

A 10% deposit is required for orders of 4 or more flasks.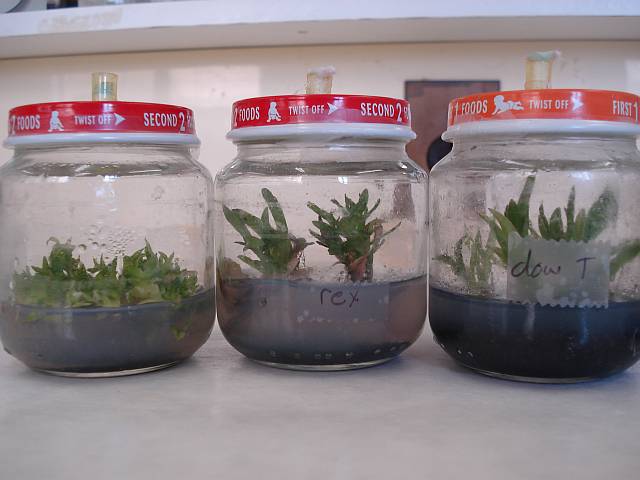 If you have seed you wish sown my charge is R50 per flask with a minimum of two flasks (one for sowing seed and then one replate providing 10-15 seedlings per flask). I will sow at least two seed flasks and then make at least three replates to hedge against contamination. If you do not want the other two flasks I reserve the right to keep them and do with them as I please in order to recoup the cost of materials. If you want me to sow the seed and give everything back to you the cost is a minimum of R200. I cannot gaurantee germination and sometimes getting protocorms to differentiate is difficult. If you have a difficult or rare plant which is fussy about the medium please advise me on which medium you would like it sown and if possible provide the medium. I work mostly with MS, Phytamax and Knudson C.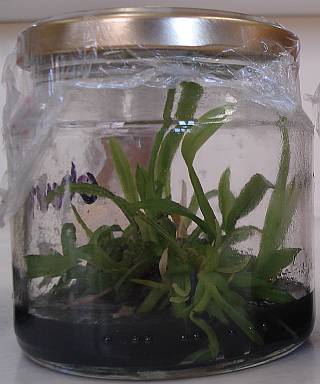 Orchid flasks and seed from Austria: http://www.laminarflow.at.